Where Children and parents can discuss their thinking, ideas and the world!
March and April were busy months. We worked very hard, finishing our ACCESS 2.0 doing testing for all grades, doing science projects, writing All About non-fiction books and beginning our poetry unit.

We were busy learning about different animals, doing research on them and writing our All About books. First graders worked every day putting their information and thinking together to write their individual books.

We learned to visualize or make pictures in our brains as we listened to different writers during our read- alouds - visualizing helps us understand and infer what we are reading. We also learned to ask questions about the texts and illustrations to have a greater understanding of the author's and illustrator's message.

Kindergartners wrote group All About Penguin books and made their own penguins during Makerspace using different materials in the STEAM lab then wrote about the process and reflected on how they "built" their penguins. We planted seeds and are waiting eagerly to see if they grow!

Spring is one of our favorite times of the year - we are can go outside and admire the changes in nature.

As we begin to write our poems, we look at "treasures" I collect from the beach and from walks. Children add to our collection of objects as we explore poetry through our senses written by different experienced poets and by new poets, our kindergartners and first graders.

Some groups interpret poetry, some groups illustrate poetry and we all write poems. Here are some examples of the work we have been doing.

Please take a look and enjoy our work!

---
Powered by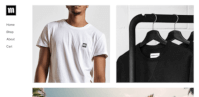 Create your own unique website with customizable templates.